Lîstika kurdî yekemîn a 3D
Ji awirek extreme, ev lîstik dê rastiya min a reş ronî bike. Ez dixwazim Barzanî di ve wateyê de vejînim ku ehlaq û wefadarî ji nû ve zindî dibe, nemaze ji ber ku ev pêşangeha gerok a gewre ya di derbarê wî de ne piştgirî bû, ez vî kesê wekî Ho Chi Minh, Gandhi, Che Guevara an Mandela diperizim. Lê tevlêbûna wî li deverek hov bi sînor bû.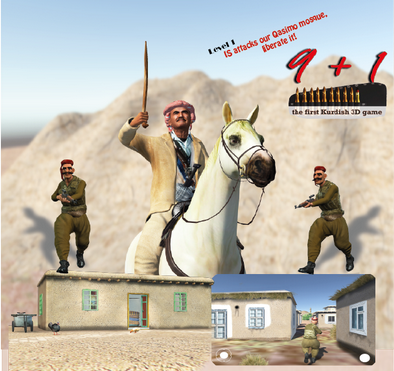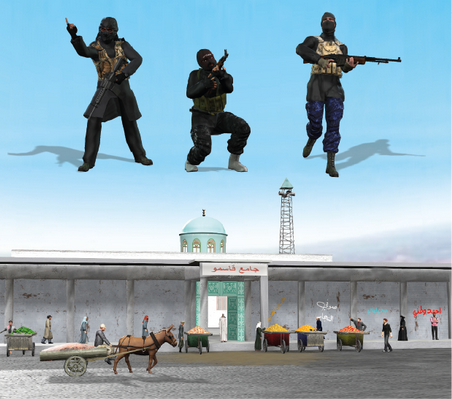 Bi ya min, ew lehengek e ku dibe ku tu carî venegere. Ji ber ku medyayên wekî lîstikên 3D dihêlin xeyalê we bişewite, hûn dikarin li gorî baweriyên xwe û giyana xweya heyî tevbigerin
.
Di vê lîstikê de dê astên cûda an cîhanên lîstikê hebin, ku hemî li nav û dora bajarê min hatine saz kirin. Dîmen, dîmen û mirovên bi kinc û adetên kevneşopî, ez girîngiyek mezin didim vê
.
Ruto avatar e ku dixwaze û neçar e ku fermanên Barzanî bicîh bîne.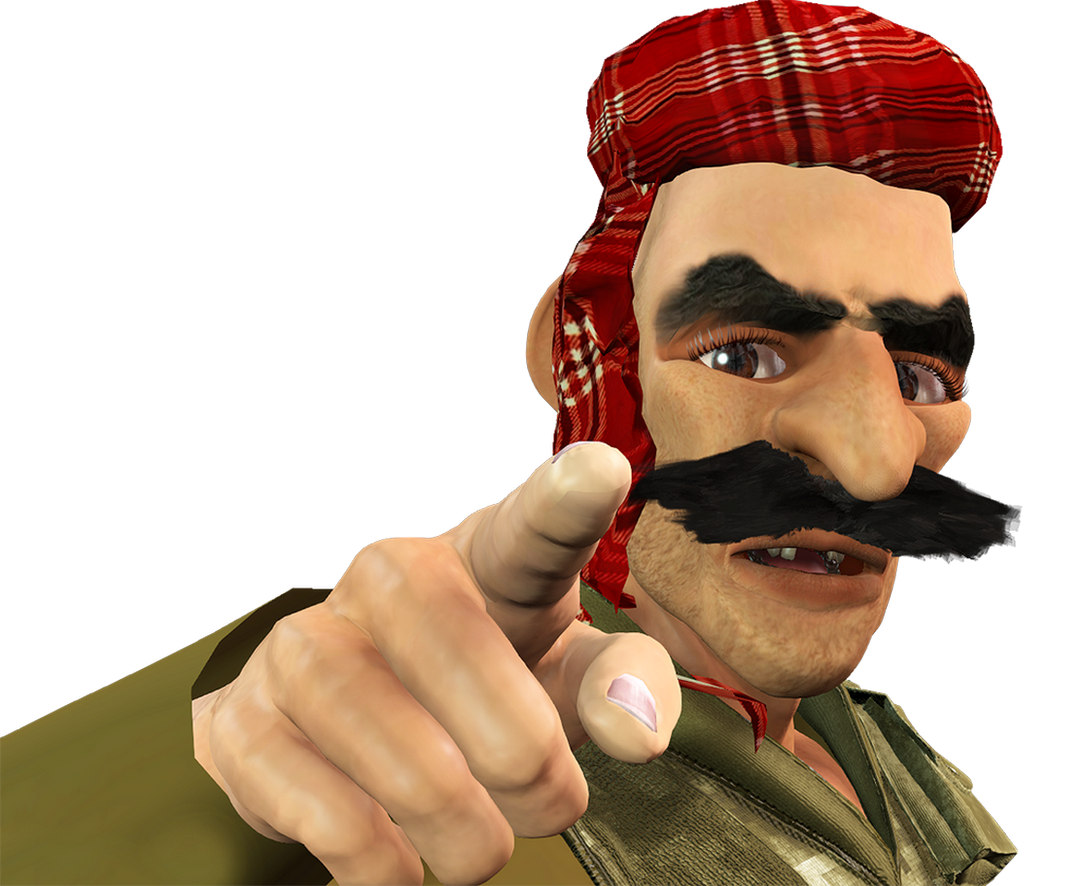 -
-
Kataloga Hunerê serhildêr yê Nû




Kataloga min a nû di payîza 2020-an de hate weşandin, ku ev beşek xebata min nîşan dide. Digel wêneyên karên min ên ji nîveka 1980-an heya 2020-an, gelek tişt hene ku meriv bixwîne: Ez qala kariyera xwe dikim û di jiyana xwe de qala qereqolên girîng, damezrîner dikim. Nivîsarên lîrîka min jî tê de ne.

Katalog bi sê zimanan (îngilîzî, almanî, erebî) hatiye nivîsandin.

Di heman demê de çend rûpelên bi Kurdî, zimanê dayika min jî hene, ku ji ber qedexeya li Sûriyê destûr nehat dayîn ku were fêr kirin û ji ber vê sedemê mixabin gelek kes, ez jî tê de, xwedan nivîsandinê ne.

Berzan Kejo




ISBN çap: 978-3-9815342-1-4

weşanxane:





Pêşgotin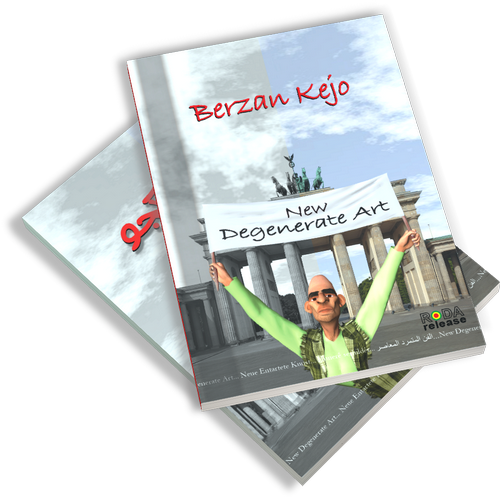 Huner neynika civaka (rojava) ye. Her çend di cîhana hunerê de gelek mirovên çalak bi gelemperî pê bawer in ku ew wêneya dijberê wê ne, ev xwe-danasîna alikar tenê di nav bilbilê wan de derbasdar e. Ji aliyê sosyolojîk ve hunera ku jê re tê gotin hunera hemdem xwedî fonksiyonek berbiçav e. Ew vekirîbûna bingehîn a komek piçûktir a ku dê ji pir kesan re xerîb bimîne destnîşan dike. Ev tiştek ji toleransê cuda ye, lê wekî sembola wê tê hesibandin. An jî civak vê rêveçûnê bikar tîne da ku nîşan bide ku mezinahiya xwe çiqas bijartî ye?

Berzan Kejo bi nivîs û berhemên xwe xaleke bi êş a sîstemê nîşan dide. Ger her kes hunermend e, çima vegotina resen a serpêhatiyên takekesî yên penaberekî kurd li Almanyayê ne huner e? Kejo ji naverokê dest pê dike. Di serê wî de wêne hene û dixwaze wan parve bike. Lê cîhana hunerê rê nade wî. Ew di vê yekê de ne bi tenê ye. Balkêş e, Kejo li hember vê yekê bi bindestî reaksîyonê nake, lê bersivê dide birîndariyê bi lêdanek tev-dorê ya bi hêrs, ku bi persiflaja Muzîkjenên Bajarê Bremenê diqede. Her çend kom wekî sembola hevgirtinê peyamek cûda radigihîne jî, di jiyana rojane de, wek ku Kejo diceribîne, çavdêriya Orwell derbas dibe ku dema ku hemî heywan wekhev in, hin heywan wekhevtir in.

Xwendevanên almanî yên xwedî zanîna dîrokê dê ji ber bikaranîna Kejo ya peyva »dejenerasyon« şerm bikin. Ew tîne bîra me ku çawa stereotipên nijadperest ên xwezayî dijîn. Refleksa ku meriv li dijî nijadperestiya xwe erê bike nepêwist e. Pirs ew e ku Kejo heta çi radeyê rast dibêje, û di asteke mezin û biçûk de çi dikare were kirin? Mîna ku Îbram X. Kendî bi zelalî got, an nijadperestî û anjî nijadperestî heye û di navberê de tiştek tune. Kejo bi îdiaya guhertoyek nû ya têgeha »dejenerasyon« dijberî cîhana hunerê dike, ku di dawiyê de tenê neynika civakê ye. Bi erênî îfade dike, ew nîşan dide ku dîsa jî mimkun e ku meriv bi ramanên dîtbar ên bibîranîn dengê xwe (estetîkî) bilind bike û bigihîje temaşevanek ji derveyî (û carinan jî di hundurê) cîhana jorîn de.

Dr

.

Arie Hartog

Derhênerê Gerhard-Marcks-Haus Bremen
---
Ez ferq nakim ku siya min ji bo yên din xwar xuya bike"
Li ser kariyera min
Huner weke rêhevalekî ye ku beşdarî van rewş û serdeman bûye.
Dema ez zarok bûm, min çavê dirêj yê Cegerxwîn (helbestvanê kurd ê herî navdar) dît ku dema em dilîstin, her tim di ber me re derbas dibû.
(…) Ez di rûyê pîr û kalên xizm û cîranên xwe de fêrî hunerê bûm, min ji axa sor a ku Qamişlo lê radiweste, huner çêkir. (…) Heta ku kaxiz û pirtûkên wênesaziyê ketin jiyana min.
Heta vê demê min şaxên zeytûnê wek firçe û pênûs, li ser axa sor xêz dikir.
(…) Birayê min ê herî mezin Mihemed bû modela min a yekem, ji ber ku dikaribû bi qelemê pir baş xêz bike. Min ji wî hez kir û ew ne xema min bû ku ez jêhatîbûna xwe hîn bikim.
(…) Mamosteyê me yê nû yê hunerê di pola heştan de, mirovekî aram û dilnizm, ji kêliya yekem de bêtir jê hez dikir. Navê wî Xelîl Mistefa bû. Piştî demekê em bûn heval û wî ez vexwendim studyoya xwe û apartmana xwe. Ev kêlî di jiyana min de yek ji demên herî xweş bû. Ez ji aliyê mamosteyê xwe yê hunerê ve wek hevkar hatim vexwendin! (…)
Ev mamosteyê hunerê yê nû bû ronahiya wêneyên min ên reş. Ez bi berdewamî diçûm seredana wî û ger sedemek min tunebûya ku ez biçim serdana wî, min ji bavê xwe pirsî ka gelo ew dixwaze ez kîloyek titûna qaçax ji bavê wî re ku mişteriyê wî bû, bînim. (…) Ji bo hunerê, tiştek ji bo min zêde xeternak bû. "Ax, birêz mamoste, min ji bavê te re titûn aniye." (…) "Birêz Mamoste, tu çi pêşniyar dikî, ez çawa û çi xêz bikim?" Wî jî got: "Dakêşin.
tiştek ku hûn dibînin, ne girîng e ku ew çi ye. Divê hûn şikil, ronahî û siyê nas bikin. Divê destê te bi qelem û firçeyan bimeşe." Paşê di wê minasebetê de palpiştên xwe yên ji barana şevê şil bûbûn nîşanî min da.
Van gotinan min motîve kir û min bi vî awayî kariyera xwe ya hunerî dît; Min ne tenê xêz kir
tiştê ku min dît lê di heman demê de tiştê ku min hîs kir. Ji ber vê yekê, huner bû parçeyek ji min.
(…) Piştî hewqas hewldan û stresê, di Çile 1986 de ez herî dawî hatim Erdê Sozdayî. Pasaporta min a sexte ez birim Almanyayê, ne ez. Bi rastî min dixwest biçim Swêdê, lê ez li Almanyayê di tranzîtê de asê mam. Li kampa penaberiyê em hinekî xera bûn, hema hema hemû xwarinên almanî şîrîn bûn. Me qet tiştekî xweş û şor nedît, di her xwarinê de şekir hebû. Yekemîn rûniştina min piştî mana li kampa penaberiyê ya yekem li nêzîkî Bremenê bû. (…)
Mala biçûk aşxane tune bû. Çend germkerên mobîl hebûn, ew baş bû. Lê bayê sar di paceyên şikestî re derbas bû, tuwalet li derve bû. Pirsgirêk hewa bû, ji ber ku vê mehê berf zêde barî û cemed hebû. Û kesên wek min ku ji başûr hatibûn jî ev hewa nizanibûn.
Tuwalet li derve û bê ban û av cemidî bû. Her yekî ji me ku hewce bû biçûya destavê, diviya bû ku potek mezin a avê germ bikira da ku qeşaya di nav hewşê de bihele, da ku "bermayiyên" xwe bi satilek av bişo.
Ew saziyek alkolîk bû, berazan bû. Min digot qey kampên komkirinê wisa xuya dikin.
Ev nerazîbûna hikûmeta Alman ji bo biyaniyan eşkere bû. Berazên Alman jî ji me germtir bûn. Bibêjim ev rewşa xerab ji bo min şok bû, ne bes e. Min tewra meraq kir gelo ez mirov im û tewra min pirsî gelo dêûbavên min hene ku ji min hez dikin. Cîranekî ku alkolîk bû, tenê peyva "capito" fêrî me kir, ji ber ku wî difikirî ku hemî biyanî ji Îtalyayê hatine.
Li ser mijara "Almanyaya min"
Hûn dikarin li her derê mirovên teng-aqil bibînin, lê li Almanyayê gelek kesên din, dîtina min ev e. Min ji "Angst Almanî" bihîst, dibe ku pirsgirêk ev be. Mafê her kesî ye ku welatê xwe ji sextekar û qanûnzanan biparêze. Hin koçber jî rola xwe lîstin ku yasa tundtir bûn. Wan difikirîn ku li Almanyayê, berevajî welatên wan, her tişt destûr e û ew dikarin her tiştî bidin. Çi dizî, çi xapandin, çi ji bacê direvin. Wek gotina kurdî ya baş, "Sêva xerabûyî dikare hemû sindoqê bihelîne."
Dema ku min pargîdaniya xweya reklamê hebû, min rewşek xirab dît. Xerîdarek fatûreya xwe nedaye û min jê xwest ku di dawiyê de bide. Ew êrîşkar bû, li min xist û bi tiştekî tûj li min da. Dûre ez ji bo giliyê wî bikim çûm polîsan. Dema polîsê li qereqolê kaxiz amade kir û navê kiryar ji min pirsî, min nav got. Di cih de, rûyê polîs guherî. Rabû got na, poşman e, sûc qebûl nake. Bi hovîtî û nerazî ez ji qereqola polîsan hatim derxistin.
Vê hevokê min wisa hîs kir ku dinya hilweşiyaye. Min xwest mafên xwe bi dest bixim, lê min fêm kir ku li vî welatî li nîveka Ewrûpayê hêzên bilindtir hene û bi rastî ez tirsandim û bêhêvî bûm. (…)
Çi dibû? Muwekîlê min ji eşîreke bi hêz bû ku li Bremen û deverên din ên Almanyayê belav bûbû. (…) Reaksîyona polîs ez piştrast kirim ku yan ji vê eşîrê ditirse yan jî ji alîyê wan ve hatiye bertîlkirin. Min dixwest ku pirsgirêkek piçûk çareser bikim, lê pirsgirêkek mezin da min. Min fikir kir ku bi polîsê federal re têkilî daynin. Lê dû re min fikirîn ku ez ê bibim ber berfek mezin û di dawiyê de ez ê winda bibim. Ji ber vê yekê min ev yek nekir.
Niha diviyabû min ji bîr bikira ku ez di rewşek destûrî de me û diviyabû ez vê rewşê wek dewleteke feodal bi danûstandinên eşîrî çareser bikim, ji ber ku xeterî li dora min bû. Ez careke din li vê Almanyayê bêparastin bûm.
Lê mizgînî: Piştî ku bi serokê eşîrê re axivîm, min pereyê xwe jî girt. Ji ber vê rewşê êdî baweriya min bi dewleta makezagonî ya Elmanya ku qaşo her tişt di bin kontrolê de ye nema, lê li vir jî wekî welatên ku jê re dibêjin Cîhana Sêyemîn, bertîl bi hemû leza xwe dimeşe. Lê divê hûn wek min tê de bijîn, da ku hûn fêm bikin ka Almanya ji bo kesên ku wekî min pêwendiyek wan tune ye çiqas xeternak e. Divê hûn werin rewşek wusa, ku hûn fêm bikin ka dewleta hiqûqê li vê Almanyaya wehş çiqasî xeternak e.
Li ser mijara "Pêşvebirina Hunermendê Dewletê"
Min gelek caran serî li danasîna hunermendê dewletê li Elmanyayê da, lê her tim red dibû. Fînansekirina tedbîrên amadekariyê yên ji bo hilberîna fîlma min a dirêj ji aliyê promosyona fîlmên çandî ve îstîsnayek bû. Piştî ku min dev jê berda, min rojekê dîsa li Bremer Kulturförderungê hewl da. Min projeyek ji bo hevjîna bajarok di navbera Îzmîr (Tirkiye) û Bremenê de, bi rojnameyeke diyar çêkiribû, ji bo ku her tişt ji bo bîstemîn salvegera hevkariyê were pêşkêş kirin. Ne bersivek, ne jî red kirin, û ez dîsa bêhêvî bûm. Lê rojekê gazî min kir û zilamek bi dengekî kûr got: "Ma tu Mîrê Kejo yî? Projeya we ya Îzmîrê hat qebûlkirin."
Min bersiv da, "Ji bo vê projeyê bernameya min heye. Ma te serlêdana min nexwend? Hûn bi qebûlkirina xwe pir dereng man. Plana min bixwînin! Niha ji bo projeya min pir dereng e!"
Çima ez dereng hatim agahdarkirin? (…)
Li ser mijara "Integrasyon"
Entegrasyon ger ji jor ve neyê destnîşankirin dikare tiştek pir xweş be. Mîna demokrasiyê ye, divê ji gel, ji gel were. Pakêta entegrasyonê ji jor ve biryar hat dayîn. Dê girîng bû ku berê dersa xenofîlê bide. Bi dîtina min, siyasetmedaran negotin ku koçberî pêwîst e. Ne xistine rojevê, ne jî bi rastgoyî negotin, emê kêm bibin û ger rewş wiha biçe, em ê di bin tehdîda tunebûnê de bin.
Helmut Kohl, ku wek serokwezîrê yekbûnê hat binavkirin, "Aussiedler" (koçberên rûs) anî Almanyayê. (…) Ew û şûngirên wî neçar bûn ku wê demê Almanyayê bi nav bikin: welatek koçber. Diviyabû desthilatdar ev şoka gel bikira gelek şokên biçûk û bi yekcarî li hêviya hemûyan nebin, weke ku di sala 2015'an de li deriyên vekirî bû.
Dûv re wan ji nişka ve sînor vekir û destûr da ku her kes bikeve hundur da ku pîramîd rast bimîne.
Bingeha civaka navçandî divê di sala 1986'an de dema ku ez hatim Almanyayê hatibû amadekirin. Ez di wê demê de hatim ku Hîtler demek dirêj winda bû. Lê min strana di dîsko û baran de bihîst "Em Adolf Hitler direqisin, em Mussolini dans dikin" (strana DAF, komek almanî). Baskê rastê ji bihîstina vê stranê hez dikir ku li me biyaniyan bişewite. Em penaber reviyabûn civakeke biyanî. Ev çi welatê mazûvan an sirgûnê ye?
Entegrasyon bandorê li du partiyan dike û divê her aliyek bigihê mafên xwe û berî her tiştî erkên xwe pêk bîne da ku di nîvê hev de bicivin. Ne ku em koçber daxwaza toleransa herî zêde ji Almanan dikin û ji xwe re dibêjin îstisna. Divê koçber bibin xwedî îradeya fêrbûna zimanê welêt, ji civakeke vekirî ya ku bingehên wê yên exlaqî heye re vekirî bin. Divê her kes taybetiyên xwe biparêze, lê ne pîs û nefreta siyasî. Divê cihêrengî bê parastin.
Beriya her tiştî divê koçber nêrînên xwe yên siyasî li vir biguncînin, ji bo ku em koçberên ku ji welatên cihê yên dijmin tên divê li vir li hev bikin.
Divê pez û gur bi hev re bin.
(…) Divê êdî hêza praktîkî, îcrakar, ango polîs, bibîne ku heta a
(…) Heya ku polîsek alman di nakokiyek bi Almanan re bipejirîne, tenê ji ber ku ew Alman in û
ji ber vê yekê jî rast û koçber her dem xelet e ...
Madem ku hîna jî xirab û newekheviya penaberên kevin û nû ye û derfetên wekhev ji bo hemûyan tune
Heya ku Alman ferqekê di navbera koçberên Xiristiyan û ne-Xirîstiyanan de bikin ... ..
Heya... Heya ku... Heya ku...
Heya ku ev şanoya entegrasyonê ya Alman hîn jî diceribînin ...
li navenda kar mişterek birêkûpêk im
ez kulikek ku qanûnan pêk tîne me
deqeyekê bisekine, dîsa siyê min qut dike
wêneyê ku te bi xwere hijtiye
hat çirandin, rengê xwe winda kirin
li wir divê hûn zarokên xwe bifroşin
li wir dê keçên we bibin mîlîs
li ser navê wekheviya zayendî
bira birayên xwe dişoxilînin
tu hîn di demên xweş de dijî
şaristaniyê li wir jî êrîşî me kir
erê, li wir kuştin bi navê serok tê kirin
li wir êdî ne wekî ku hûn difikirin
li wir her tişt wêran dibe, di nav de mirov,
ji aliyê dijminên ku dilê wan tune
li wir her tişt destûr e ji bilî hezkirina hev
ez ji tengahiya xwe diqîrim
bilêta di destê min de ye
bi hêrs û kederê hatiye perçiqandin
ji destê min dikevin erdê
bayê xwesteka min a dawî difirîne
her derê lê tenê ne bi alî welêt de
siya min dîsa ji min dipirse
ax û xizmên min ên tozbar
li qadên lîstikên min ên çolê
tenê li wir jiyan wê min nû bike
tenê li wir ez dikarim xwe biparêzim
û tenê li wir ez beşek girîng a kêrya xwe me
tenê li wir ez dikarim şopên xwe bihêlim
tevî zaliman, tevî zordestiyê
ji êşkenceya welat bêtir diêşîne
li wir, gava serê min diêşe,
hemû eşîr dicivin û ji min re dua dikin
erê, vegerim ser şopa zarokatiya xwe
ez li vir im û hêdî hêdî dimirim
û piştî xalê bibe jimar
qeydkirî
li vir ez nikarim bibim mîna ku ez li wir im
li vir ez di tenêtiya gemar de dimirim
ku tenê di dawiya hefteyê de radiweste
li vir ez wek mirovekî najîm
li vir ez tenê xerîbek dimînim
her tiştê min li vir heye ne yê minin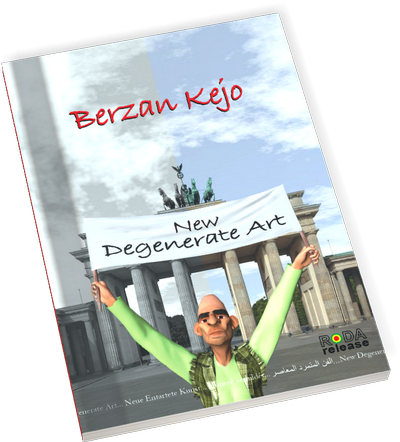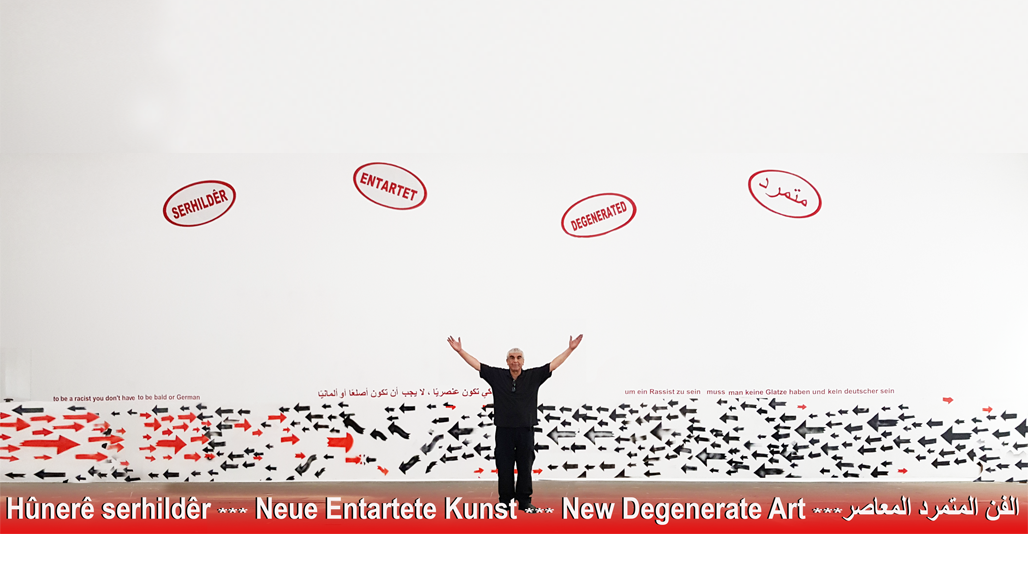 Resim, Resim, Rolyef, Peyker
Sazkirin,
Fîlm,
lîstikên
3D, anîmasyon 3D
Künstlerhaus Güterbahnhof Tor 40
Vernissage Yekşem, 5.9.2021, saet 11.30
Destpêk: Dr. Arie Hartog
Muzîk: Merxaz
Duşem-
Roja Înê 15:00-18:00 Şemî / Yekşem 12:00-16:00
Huner
di heman demê de neynika bûyerên civakî yên hemdem e û huner bi awayê xwe yê hestyarî yê îfadekirina tiştekî dikare di navkirina nijadperestiyê de rolek girîng bilîze.
Pêşangeh
bi serketî bû, tevî Corona, û tevî mijara ku gelek Alman xwe jê dûr dixin di vê civaka alman a fosîl de, tenê ji ber ku ew bi qestî naxwazin rastiyê bibînin.
An jî ji ber ku destûr nayê dayîn ku li paş xwe binêrin.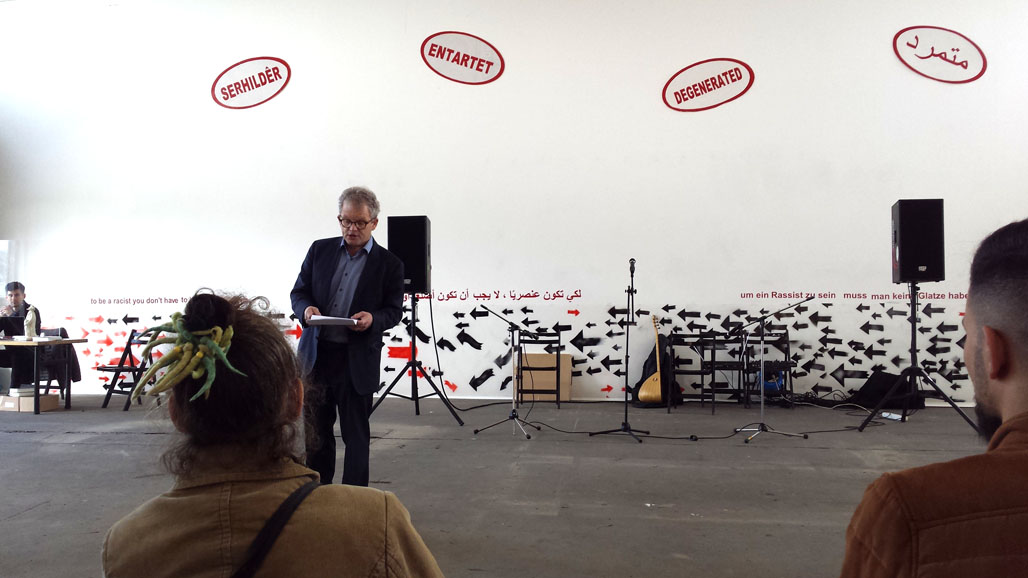 Dr.
Arie Hartog
di dema vekirinê de
Rêveberê Gerhard-Marcks-Haus a Bremenê Arie Hartog axaftina vekirinê kir.
Kêfxweş im ku min kesek weha nas kir ku di heman demê de bi pisporiya xwe qîmetê dide huner û hunermendên ku di nav rêgezê de avjeniyê nakin.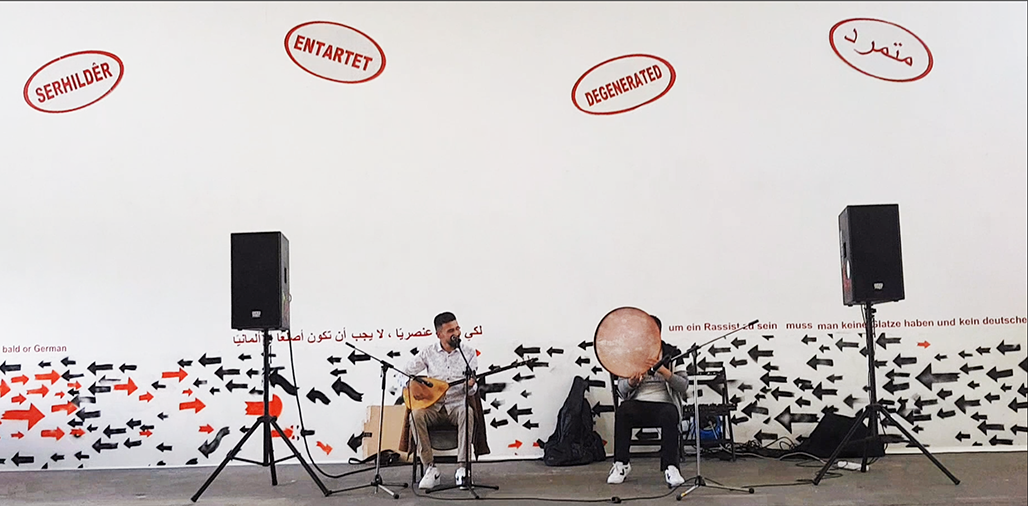 Muzîsyenên kurd Merxaz û Egîd bi muzîka xwe ya xweş a kurdî lêxistin.
"Ev huner gotinek kesane ye û bi vî rengî me bi gelek pirsan re rû bi rû ye.
"
Dr. Arie Hartog
Gelek
mêhvanan bi min xweş motîve kirin û gotin ku mijarên min di hunerê de çiqas kêm in û ew pêşangehê çiqas diyarker dibînin.
Di
heman demê de, ez ji hêla hin mêvanên Alman ên ku qaşo nêzî min bûn û yên din jî ji ber hin xebatên min ên rexneyî bi tundî hatim rexne kirin.
Di pêşangeha xwe de ji ber rexneyên min ên li Almanyayê ez bi tundî, bê medenî, bi tundî
û
bi şexsî ji aliyê van kesan ve hatim rexnekirin.
Min ne kûçik şiyar kir, lê hiyenên Elman ên razayî.
Û
ev
tiştekî baş e
, di nav tiştên din de tiştê ku min dixwest ev e.
Min
ji bo vê pêşangehê afîşek bi gotin û wêneyan ji xwe re çêkir ku gelek kes kêfxweş kir.
Ew ravekirineke bi rastiyan e ku ez çawa hatim Hunera Dejenere ya Nû.
Di wê de ez redkirina BBK'ê ya ji nû ve endambûnê vedibêjim.
Ji ber ku ez dibînim ku ez tenê ji hunermendên xwenda re wiha bi nav dikim, ez di Net-ê de li hunermendên xwenas ên nas geriyam û di nav yên din de rastî van Gogh û Niki de Saint Phalle hatim.
Her wiha li ser resamên ku bi hezaran sal berê di şikeftan de wêne çêkirine.
Û behsa Gerhard Marcks û min jî kir.
Min xwest bibêjim ku huner însiyatîfa her mirovî ye.
Gelek kesan ev yek dît, hinekan bi min re piştgirî dan, hinekan wek ku di pêşangehekê de ye nenêrî.
Bi kêmanî
du ji wan strûhên xew nîşanî min dan.
Yekê ku ew jî ji derdora min a bi navê tolerans e, got:
"Ez fêm nakim ku ew li ser çi ye".
The other, however, clarified it a bit and said, "You want to put yourself on a par with Gerhard Marcks." And with a hahaha she ended her criticism.
I am sensitized by such remarks and my radars are always on. Before this woman knew what this poster was actually about, she made her subtly racist remark. And this is in my art exhibition.
Lê yê din hinekî zelal kir û got, "Tu dixwazî ​​xwe bi Gerhard Marcks re bikî. Û bi hahaha dawî li rexneyên xwe anî.

Ez ji van gotinan hestiyar dibim û radarên min her tim li ser in. Berî ku ev jin bizane ku ev poster bi rastî li ser çi ye, wê gotina xwe ya nijadperestî ya hûr kir. Û ev di pêşangeha min a hunerî de ye.
Di vê afîşê de û di vê pêşangehê de jî min bextreşiya xwe ya neserketinê û bi taybetî jî berteka xwe ya li hember wê nîşan da.
Ev alternatîfa ku jê re dihat gotin, bi gotina wê ya pozbilind dihate wateya "Ey hûn xwe bi Gerhard Marcks re danîbûn asta û divê ev nebe, ji ber ku rol ji berê ve hatine destnîşankirin, em her gav li jor in û hûn li jêr in."
3 celeb rexne hene , rexneya erênî, neyînî û wêranker, rexnegiran. Ez vana li gorî nêrîna ku jê tê cuda dikim.
Ger kesek tiştek fêm nekiribe, ez amade me ku bi demjimêran vebêjim ka mebesta min ji wê babetê çi ye. Ger kesek bê îhtîşeyên nijadperestî dîsa jî nerazî be, ez kêfxweş im ku rêz ji wan re bigirim. Lê eger kesek tenê bi awirek zû û ji dûr ve, bêyî ku bi texmînî bizane ew li ser çi ye, tiştekî rexne bike, wê demê ji bo min ev e ku ew kes ji min re bêje "tu xerab î" bêyî ku bi min re gotinek biguheze. Yanî wêranker e.
Pirsgirêka piraniya Almanan: ew hîn nebûne ku kesek di asta çavan de bibînin.
Ev ne tenê şîroveya min e, bûye nêrîna min a teqez.
Ez jê re dibêjim: "Eger min tenê ji sedî yek piştgirî wek Gerhard Marcks bigirta, hûn ê bibînin ku ez kî me û çiqas bêtir hunermend di nav min de ye, ne tenê li gorî Gerhard Marcks, lê ji hemî mezinan re. Hunermendên Alman ên zindî û mirî, hûn Elmanan rê li ber min vekin ku berbi vê bazara hovane ve biçe, paşê ez nîşan bidim ku ez kî me."
Ez naxwazim li ser xalîçeya sor were pêşwazîkirin, wek ku yek an yê din difikire, lê ez bi dabeşkirina adilane ya derfetan ji bo hemî hunermendan, tevî bêyî ku ez di nav komekê de bin, mijûl im.
Herçiqas ez ji kurdan im jî, ne di warê madî û ne jî manewî de min ji gelek partiyên kurdan jî piştgirî negirtiye. Ji ber ku min nedixwest û naxwazim bibim berdevkê ti partiyan. Di rewşên kêm de min piştgirî ji ferdên Kurdan wergirtiye. Lê piraniya wan ji ber çavnebariya xwe ya kujer piştgirî nedan min!!!
Lê ez li Almanyayê me û ne li Kurdistanê me.
Nivîsa li ser afîşê
Huner jêhatîbûn û nerînek e ku tevî xwendinê di hinekan de û di gelek kesan de ne çalak e!
Van hunermendan tev nexwendine û ne di BBKê de bûn!
Huner jî hesasiyet e, ku klîk tenê bi xwe re pê dizane!
Min hemû endamên parlementoya Bremenê vexwendibûn, lê kesek ji wan nehat, ne ji Çola Kesk û ne jî ji parlementerên Kurd ên ku bi hatina parlementoyê berê xwe dane armancên xwe.
"Civaka nûjen bi girtina sînoran û bi pêvajoyên vekirinan re tevdigere, û ne bi wateyek statîkî, lê pir dînamîkî. Ew her gav li ser jor li hember jêrîn (bê guman, bakur li hember başûr) û çawa jor hêzê bikar tîne da ku derî girtî bimîne. Mirov dikare li ser argumanên ku ji bo derxistina hemwelatî, karker, jin, biyaniyan têne bikar anîn bixwînin. Û Berzan Kejo destnîşan dike ku ev yek di hunerê de jî çêdibe (me dizanibû, tenê em hez nakin ku bibihîzin). "
Dr. Arie Hartog
Gelek mekanên ku bi rastî ji bo hunermendan têne armanc kirin mîna galeriya şaredariya Bremenê, ji hêla kotekek serhişk ve hatine dagir kirin. Mekanên xweş ên di galeriya şaredariyê ya hevalbendan de êdî ji bo rojeva xwe, armancên xwe, hevalbendiya xwe û her weha tenê ji bo kesên ku bi pêl û siyaseta xwe re yek in têne bikar anîn.
Di sala 2015 de, min ji galeriya şaredariyê ya hevalbendan pirsî. Ez dixwazim li wir pêşangeheke takekesî bikim. Ew jixwe di demên Rose Pfister û kuratorê wê de bû. Min ji bo salên pêşeroj jî redkirinek eşkere wergirt.
Pêşangeh pir baş bû. Ji ber ku ew ji bo rêxistinên wek BBK-ya xerab (Komeleya Hunermendên Dîtbar a Federal a Alman), ku tenê sertîfîkayê dide hunermendên xwenda û wan nas dike, bû ders. Û ku otodîdaktên wek min û gelek hunermendên mezin ji hunerê derxistine. Vê pêşangehê jî nîşan da ku hunermendên xwenas ji hunera kitsch û hunera hevjînê ya ku ji hêla profesoran ve hatî kopî kirin pir zêdetir li ber wan in.
" Redkirina pergalê, ku rûyê wê tune ye, lê eşkere ye ku ji hêla hemî pisporan ve tê parve kirin, bi rengek xwezayî berbi êrîşkariyê ve dibe. Em baş dizanin ku tundûtûjî çawa ji redkirinê di civaka koçberiyê de çêdibe, û doza Kejo dê bibe veguherînek di qada hunerê ya Bremen de. Di heman demê de, û divê ev yek were dîtin û pejirandin, wî bi salan karîbû ji bo hunera xwe temaşevanek çêbike, cîhek piçûk, li wir tabloyan dizivirîne û dibêje, baş e, hingê ez ne di nav wê de me. - û kalîteya xwe jê re nîşan dide. Ji ber ku ew tê red kirin, ew baş e. Ew di heman demê de îronîk û trajîk e. "
Dr. Arie Hartog
Ev saziya klîkek bi navê BBK tenê bi bûrs, studyoyên erzan an jî fersendên pêşangehê re xêrxwazên xwe dike. Vê koma klîkan serlêdana min a endamtiya nû red kirin, ji ber ku min huner nexwendiye. Û çima, ji kerema xwe, ez berê endam bûm û wê demê ji min nehat pirsîn ka min xwendiye?
Pêşangeh herî baş bû û nîşan da ku li vir li vî welatî tenê hunermendên dildar digihîjin hemî mekan, pere û derfetan. Nîşan da ku ez ji ber mijara xwe ya Neue Entartete Kunst ji van hemûyan bêpar im. Tiştê ku ez jê re dibêjim cihêkarî ye û tu gotineke din jê re tune.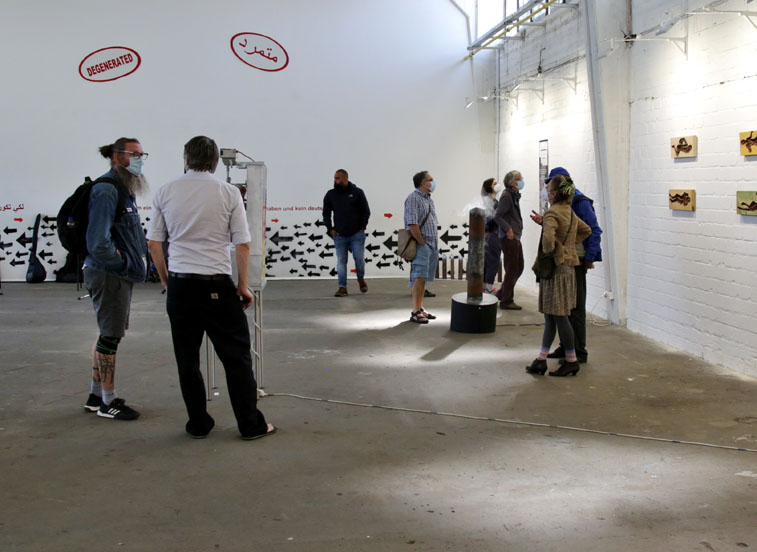 Wêne: Rolf Engel Foto ji pêşangeha min 2021
Pêşangeh
bêyî Çavkaniyên Çandî yên Bremenê jî serkeftî bû, ji ber ku li vir ez jî ji ber mijarên xwe ji vê fînansê dûr im.
" Kejo mirovek e ku ji bo mijarên ku wî dikişîne wêneyan dibîne, wek rûyê kesên îşkencekirî.
Pêşangeh
jî baş bû, ji ber ku min bi xwe li vê Almanyaya mezin a demokratîk wek hunermendek bi însiyatîfa xwe û bi alîkariya çend kesan, bi reklam, sazkirin û jiholêrakirina her tiştî bi rêxistin kir. Ev jî tîra vê demokrasiya kastî ya li Almanyayê ye. Ji hunermendekî ku 36 sal in li Almanyayê li sirgûnê dijî û li cih, rûmet û naskirinê bê encam digere.
Pêşangeh
herî baş bû û nîşan da ku li vir li vî welatî tenê hunermendên dildar digihîjin hemî mekan, pere û derfetan. Nîşan da ku ez ji ber mijara xwe ya Neue Entartete Kunst ji van hemûyan bêpar im. Tiştê ku ez jê re dibêjim cihêkarî ye û tu gotineke din jê re tune.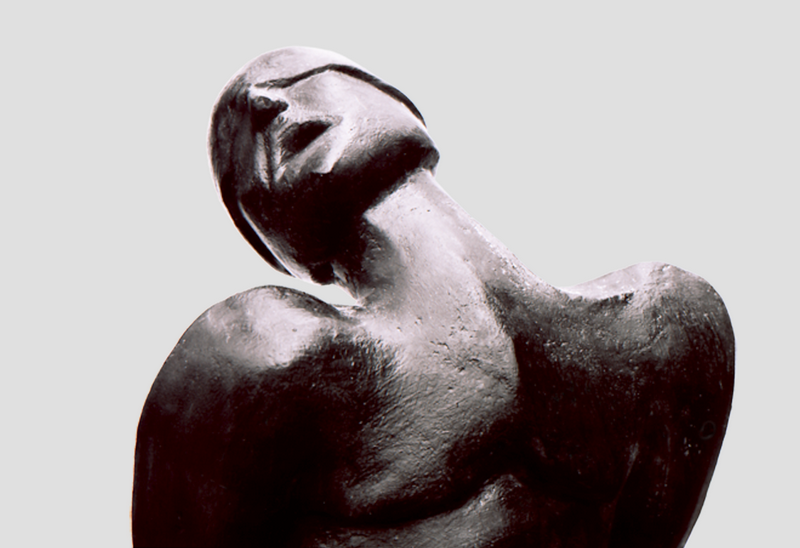 Girtî (Häftling), 150x50, gips, 1988
Pêşangeh
çêtirîn bû. Lê di heman demê de fona civakî ya Hunermendan êdî ne ji bo hunermendan wekî ku ji navê xwe diyar e, lê ji bo hemî kesên taybet ên xeyal, sêwiranerên grafîkê û bazirganên çîna navîn heye. Vê fona ne-hunermend-ne-civakî ya qirêj jî serlêdana endamtiya min a nûvekirî red kir.
Û hunermendên wekî min nayên qebûlkirin, tevî ku ez berê endam bûm.
Pêşangeh
baş bû, her çend ew tenê li ser însiyatîfa taybetî û stresê hate afirandin, bi hin piştgirîya darayî ji Weqfa Waldemar Koch.
Pêşangeh
bêyî medyaya Almanî û Bremenê jî bû, ku min hemû ew vexwendibûn, lê kes nehişt û nedixwest li derveyî sînorên xwe bibîne.
Tu pir dûr diçî, li min qêrîn, û ez dibêjim, heta kengê? Bi qasî birînên min kûr?

Poster, 120x42, 2021
Li
vê Almanyaya bi darê zorê ya demokratîkbûyî tenê erê û amîn heye.
Mijara
Hunera Nû ya Dejenere hema hema herkesî li vî welatî û her weha min jî ji aliyên cuda ve bêzar dike.
Her weha Taz, ku bi rastî divê di bûyerek weha de winda nebe, li wir nebû.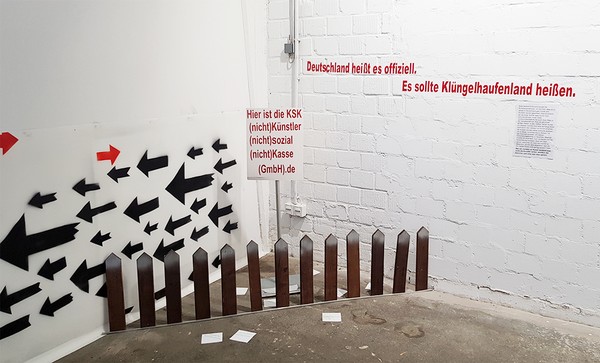 Sazkirin KSK Vezîvirandina materyalan, 2021 "Almanya navê fermî ye, Divê jê re were gotin welatê koma klîk"
Li vir jî, min hîs kir ku min ne tenê hîleyên alman, lê her weha hîyenên
medyaya Alman jî hişyar kir.
Belê, bi vê temaya Hunera Dejenere ya Nû, ku min daxuyand, min piraniya Almanan bêyî daxwaza xwe kir yek.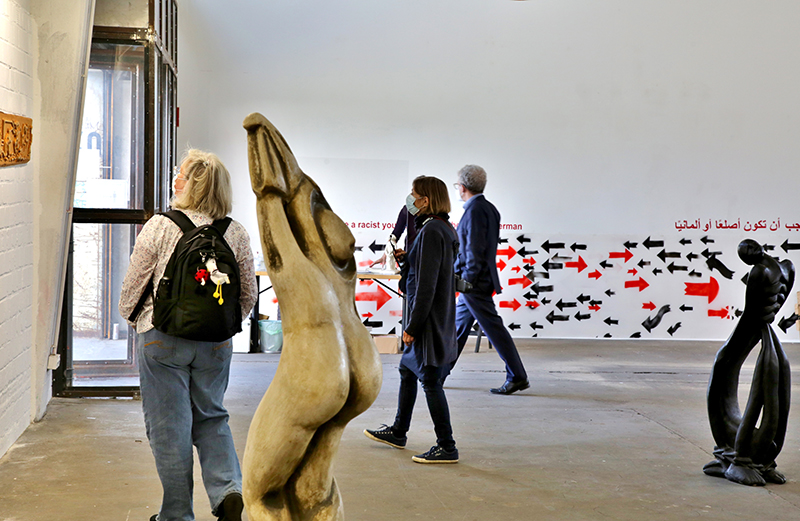 Wêne: Rolf Engel Foto ji pêşangeha min 2021
Tenê
îstîsnayek ji Radyoya Bremen 2 hebû, ku li ser pêşangehê bi Arie Hartog re hevpeyvînek çêkir, ez kêfxweş bûm.
Piştî
ku 36 salan li Almanyayê mam, ez dibêjim: Hûn dikarin her tiştî bikin, talan bikin, bidizin, bixapînin û heta bikujin.
Lê tiştek heye ku divê hûn nekin: Almaniya pîroz rexne bikin, li wir kêf diqede. Ger hûn bikin, hûn ê bibin cin, îhmal û hetta êrîş kirin. Û berî her tiştî ji aliyê klîkên medyayê ve nayên îhmalkirin û ji holê rakirin. Û her kes, lê bi rastî jî her kes, qijên xwe yên netewî û olî nîşan dide.
Heger
tu behsa pirsgirêkên li derveyî Almanyayê bikî, gelek guh û çavên te tên, lê wey li te ku tu tiliya xwe ber bi Almanyayê ve bikî, her çend rexnegirê te adil be jî, bi rastî û delîlan be jî, wek rewşa min.
Bingeha
herî girîng ya demokrasiyê rexne û xwerexnekirin e, ji kerema xwe re ev bingehên vê demokrasiya sexte (demokrasiya bi zorê) li ku ne?
Li vir
ez dixwazim bibêjim ku zilamekî alman piştî ku berhemên min dît û piştî ku li Almanyayê hin ji jiyan û trajediyên min hîn bû ji min re got: "Eger ez li şûna we bûm, min ê bigota. Li vir li dijî min komplo tê kirin."
Ez
ji Alman û biyaniyên ku dikarin li dervayê seretayî binerin û bi coş û kelecana xwe ya germ mijar girtine ser xwe, kêfxweş im. Û kê ji min re tesdîqeke nû daye ku li Almanyayê û bi taybetî li Bremenê serpêhatiya huner û çandê tenê ji bo hin eşîran û ji bo hin eşîran yekdest e.
Spas
ji bo hemû kesên ku amade bûn û her weha ji bo kesên ku ji ber çi sedemê nehatine.
Te tiştek winda kiriye!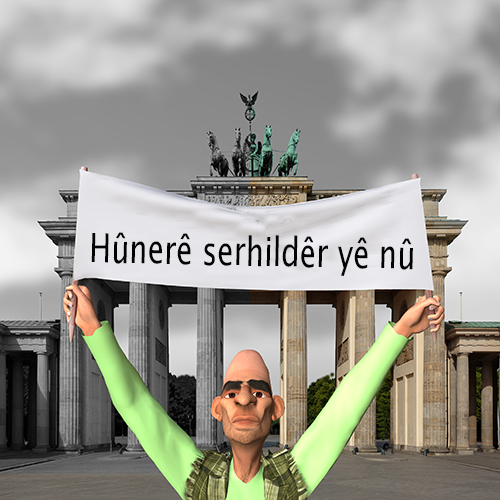 "Spas ji bo huner û peyva rast, cesaret, berxwedan, vegotina we."
"Pêşangeha mezin! Di nav ya herî baş de ku min dîtiye."
"Projeyek mezin, xewnek mezin, pêşangeh berbiçav e."
"Armanc û rêgezên ku eleqeyê derdixin û dikevin nav sohbetê. Huner çekek aştiyane ye ji bo baştirkirina civakê. Mixabin her kesê ku ji xwe re hunermend bi nav dike ew qas baş serweriya wê nake. Di xebata we de, şikir ji Xwedê re, min hîs kir ku çiqas hêja ye. hûn vê çekê bikar tînin."
"Rastiya xemgîn li ser welatê me."
"Pêşengehek fikirîn!!! Pir hêjayî dîtinê ye!"
"Ez difikirim ku baş e ku hûn balê dikşînin ser tiştên ku li Almanyayê diqewimin û ez hêvî dikim ku gelek kesên din fersendê bibînin ku cîhanê bi çavên we bibînin. Hûn bi huner û mirovahiya xwe ji bo vê civakê dewlemendiyek mezin in."
"Pêşandanên pir balkêş ên ku bi kesane ji min re bi tevahî bandorên nû û xwarina ramanê dan."
"Pêşangehek ecêb ku min tiştek jê derxist: Ez mirov im!"
Neue Entartete Kunst (Huner Serhildêr yê Nû) - dema ku hûn vî sernavê dibihîzin, hûn yekser salên 1930-an û barbariya hunerî ya Sosyalîstên Neteweyî dihizirin. Lê li vir ne ev e. Hunera Nû Dejenere navê pêşangeheke hunermendê sûrî-almanî Berzan Kejo ye û îro li Künstlerhaus Güterbahnhof li Bremenê hat vekirin. Arie Hartog, rêvebirê Gerhard Marcks House, îro sibehê dest bi danasîna vê pêşangehê kir û min pê re li ser vê yekê axifî û navê pêşangehê ji we pirsî, ku hûn rûnin û bala xwe bidinê, Berzan Kejo ji mêj ve vî navî bikar tîne. 2016, çima, li pişt wê çi ye?
AH Bi rastî li pişt wê heye ku ew dixwaze balê bikişîne. Hunermendekî bi eslê xwe Kurd e, ku ji sala 1986'an ve li Almanyayê ye, di medyaya curbecur de wek hunermend kar dike û carcaran bi wê yekê re rû bi rû dimîne ku ew wek hunermend nayê qebûlkirin û ji ber vê yekê wî ev têgîna pir eşkere bi nav kir. bi vî awayî bipeyivim, helwêsta wî destnîşan bikim, û ya balkêş ev e, ez dibêjim, ev jî bû sedem ku hûn gazî min bikin, ew kar dike.
Hm, ji ber vê yekê ew bi rastî bêtir kirrûbirra kirrûbirrê ye?
Na, ew ne kirrûbirra kirrûbirrê ye, ya ku ew e, ew ê bibe gava yekem, ew ê bi vî rengî be, di cîhana me de ji hêla heyecanek mezin ve hatî destnîşankirin, kesek li tiştekî digere ku bibe sedema heyecanê, lê bi rastî ew li ser rastiya ku ew amaje dike û di pêşangehê de jî bi awayekî pir nazik di beşeke xwe de vê yekê dike, ku ev dûrketin bi rastî di hunerê de jî çawa dixebite. Û ji hêlekê ve em dizanin ku, huner jî pergalek elîtîst a pir girtî ye, di heman demê de em hez nakin ku were bîra me.
Paşê em behsa pêşangehê bikin. Emê çi bibînin?
Belê, ya balkêş ev e, ku ew di 35 salan de çi kiriye, yanî ji berhemên pêşîn ên ku li vir li Almanyayê hatine afirandin, bêsînor nîşan dide, ku ew hewl dide ku bi rêyên kevneşopî, ango berî her tiştî gil, bixebite. yan jî bi reng travmayên xwe yên ji serpêhatiya wî ya li Sûriyê weke kurdekî li Sûriyê xêz bike, û ji wir jî ber bi hunereke sembolîktir û têgeheke diyarkirî, mirov dikare bibêje hunera têgînî jî pêş dikeve. Û her carê ew karekî, yanî tiştekî dîtbarî û li kêleka wê jî ravekirineke pir berfireh pêşkêş dike, ku bi rastî meriv, bi vî awayî, li ser şopa cîhana wî ya dîtbarî tê.
... her weha ji berhemên wî re nivîsên lîrîk jî. Karê Berzan Kejo çi taybetmendiyê dike?
Ji perspektîfa min, rasterast. Ew xwedan yekseriyek pir mezin e, min îro jî got, di karên wî yên çêtirîn de xwedî helwestek hema hema pank-a ye, ew qas rasterast di rû de ye, û ew baş derdikeve.
Pêşangeh li ser hunermend bi xwe û kariyera wî tiştek ji we re vedibêje?
Belê, bi her karekî re dibêje ji kîjan salê ye û heta niha hûn dikarin bi rastî bişopînin, bi vî awayî, ji kar heya xebatê, gav bi gav çawa pêşketiye, lê helbet wî di derbarê serpêhatiyên xwe de jî tiştek nivîsiye. penaber û yê ku bixwaze jî dikare bixwîne.
Niha ew bi xwe hunera xwe wek berxwedan dibîne, hunera li dijî dûrketinê, ji bo wî ev e, lê huner dikare wisa bike, huner dikare şert û mercên siyasî rexne bike?
Berî her tiştî, huner navgîna ku hûn dikarin bi hev re qala wê bikin e. Tiştê rast ev e û tiştê ku ew jî daxwaz dike, dibêje, hûn dikarin min red bikin, baş e, lê werin em li ser biaxivin û tiştê ku diqewime ew e ku tê red kirin û nayê axaftin.
Arie Hartog, derhênerê Gerhard-Marcks-Haus li ser pêşangeha New Degenerate Hunera Berzan Kejo, li Künstlerhaus Güterbahnhof Tor 40 li Bremenê dibêje.
Lîstikin 3D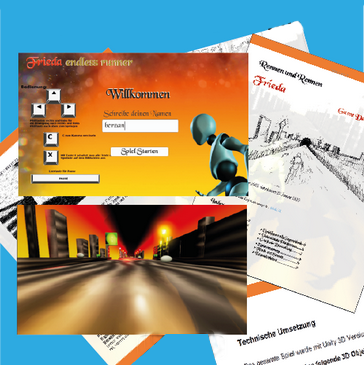 Ji bo lîstika xweya yekem a 3D, min di fêrbûna ji dûr ve de wekî pêşdebirek lîstika 3D-ya pejirandî pola A-ya jorîn stend. Destpêkek pir baş e. Dema ku lîstik pêşve diçim hema ez ji qursek têr a xwendinê fêr bûm. Bi têgînî li gorî plansaziyê û bi îradeyek xurt
Pêşveçûna lîstika 3D
Li dijî Corona tiştek we heye? Em jî dikin!
Di vê lîstikê de hûn dikarin vîrusan biteqînin, ji her derzîlêdanê xweştir e.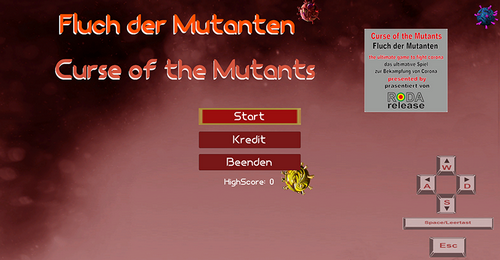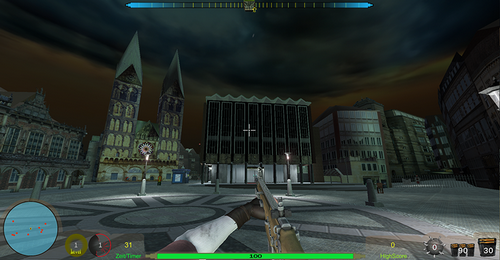 Ji sala 2020-an vir ve, erka me ew e ku em xwe li hember vîrusên Corona biparêzin û bi wan re şer bikin.
Ji bo vê armancê min lîstika kompîturê "Nfirata Mutants" çêkir.
Cihê lîstikê sûka li Bremen, Almanya ye. Ew hema hema bi heman rengî di 3D de tê pêşkêş kirin:
Salona bajêr, katedral, Becks Haus û ya herî girîng, Bremen Bürgerschaft (parlamentoya Bremen).
Hemî Bremen bandor dibe, ji bilî sûk û hemwelatîbûnê. Ji xeynî wan qedexeya derketina derve heye,
yên ku bi vîrusê re şer dikin.
Erka sereke ya lîstikvan ew e ku hemî mutantên ku bi dizî tê de bişewitînin. Divê hemwelatîbûna Bremenê bê virus bimîne!
Lîstik çar astan heye. Asta zexmtir, çavkaniyên hindiktir û bêtir vîrus hene.
Digel ku ev lîstik dikare adrenaline bikişîne, ew bi tu awayî ne şûna derziyek maqûl e!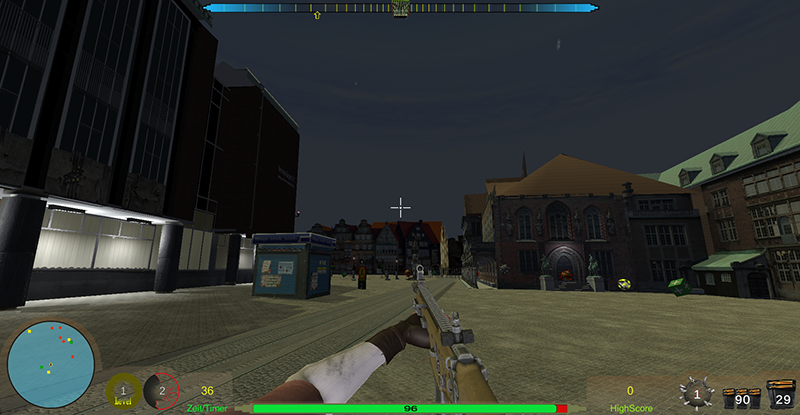 Li vir vîdyoyek piçûk wekî pêşgotinek heye.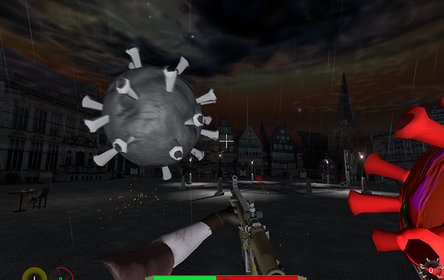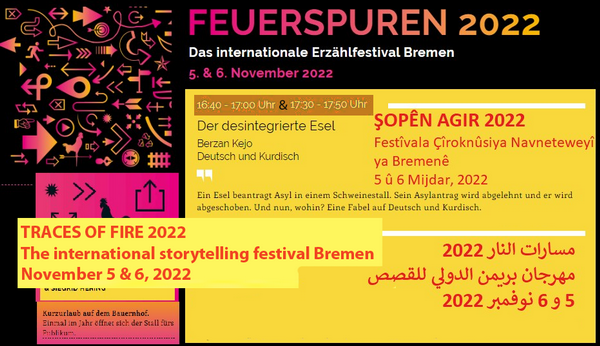 ŞOPÊN AGIR 2022
Festîvala Çîroknûsiya Navneteweyî ya Bremenê
5 û 6 Mijdar, 2022
"Kerê ne entegrekirî"
17:00 & 17:30 - 17:50
Berzan Kejo
Ker li xana berazan pena dide. Serlêdana wî ya penaberiyê hat redkirin û dê bê dersînorkirin.
Niha ber bi ku ve?
Çîrok bi Almanî û Kurdî.
Di vê bûyerê de ez ne nivîskar im, lê di heman demê de vebêjer û zindî me.
Mijarên min dimînin.
Wê demê, 36 sal berê, em penaber bi qasî îro ne girîng bûn. Destûr nedan me ku em almanî jî fêr bibin. Û ji ber ku min gotina "Zimanê hevrikê xwe fêr bibe ku tu xwe ji wî biparêzî û bi zimanê wî rexna lê bike û êrişî wî jî bike" kir, ez fêrî almanî bûm.
Min ji ber hezkirina Alman û Almanyayê ev yek nekir. Ez almanî ji punkên alman, kesên bêmal û zarokên kolanan fêr bûm, û jiber hunera min gelek xwendekar û rewşenbîr li dor min hebûn, lê ji bo piraniya penaberan wê demê, wek niha, hema hema tenê kesên bindest di asta me de hebûn.
Min ji diya xwe ya delal, bê dibistan fêrî kurdî bûm, û bê dibistan û ji trajediyên xwe ez fêrî almanî bûm.
Dema ku ez ji bo penaberên bêserûber dixebitim, min her gav wan teşwîq kir ku xwe intgere bikin. Ev yek ne tenê ji bo min, ji bo ciwanan jî bi tevahî guherî, bi gotineke din berovajî.
Helbet piştî ku ez û wan jî em bûn şahid ku Alman çawa bi van xortan re mijûl dibin, danûstendinan dikin û wek pez didin û distînen. wek rêxistinên mirovahî yên wek ASB û Paritätische, AWO û Co, ku ew qas ji dewletê pere standin, bi rastî jî çaryeka bihayan heq nekiribûn.
Û ez dikarim piştrast bikim ku wekî şahidek, ez pêşî li wir bûm!
Ji ber ku ez û ev ciwan hîn jî Almanyayê wek welatê entegrasyonê nabînin û hîs nakin, tevî cudahiyên di dema xwe de, ku em bêkêr bûn û ji ber vê yekê jî bi tevahî hatine paşguhkirin. Ne tenê ew, lê hemî wezîrên hundur ên Almanyayê ne tenê neo-naziyan li dijî me teşwîq kirin, lê di heman demê de em kirin kezebê siyaseta xwe ya têkçûyî, û wan dixwest ku di hilbijartinan de bêtir dengan ji almanên radîkal bistînin.
Her çend di wê demê de li gorî van çend salên dawî jî %5 ji hejmara îro penaxwaz nebûne.
Bi gelemperî ker di çandên din de bi kêfxweşî wekî heywanên kêrhatî têne yek kirin.
Tenê li vê berazan a li Elmanyayê ji hev belav dibin.
"Kerê perçebûyî" berteka min a li hember van gazinên wê demê û niha ye.
Ji ber ku ker ji berazan nijadekî cuda ye û ji berazan bi tevahî awayên jiyan û çanda xwe cuda ye, ku qet li hev nayên, ev cudahî rastiy a li Almanyayê vedibêje, ji ber ku hûn nekarin kerekî bikin beraz an jî wan bînin cem hev.
Ger hûn bi wateya mecazî bibihîzin, hûn ê têbigihîjin ku li Almanyayê çiqas zehmet e ku van her du heywanan bigihînin hev.
Piştî 36 salan li Almanyayê min hema ji bîr kir ku li Sûriyê çawa bû.
Loma jî nivîs û çîrokên min bi piranî li ser serpêhatiyên min û gelek penaberên din ên li Almanyayê ne. Carinan tûje, mîna vê fablê ya li ser kerê perçebûyî.
Bêtir informasion
https://www.feuerspuren.de/bauernhof-2/#legende
Bi Almanî û Kurdî
Ji bo dîtina vegotinê, li vir bikirtînin